Recon of the NCC2011 Route
After Hurricane Irene
Account of JollyRoger's Practice Run
for the North Carolina Challenge 2011
By Roger Mann (JollyRoger)
The plan was to do one more NCC practice run and to see if the Harlow canal was navigable after Hurricane Irene. I had done the course back in May 2011 in a Hobie TI and completed it in 25 hours with a 3 hour stop for sleep. The first time running the course was an eye opener. There seemed to be shallow water everywhere. I got grounded three times and had to walk the boat and once for nearly a mile. The course is challenging. Most folks experienced in this area will say that the weather will be the determining factor for finishing. It has proven to be no cake walk and if you have finished you have proven something to yourself. I felt proud having completed the entire course.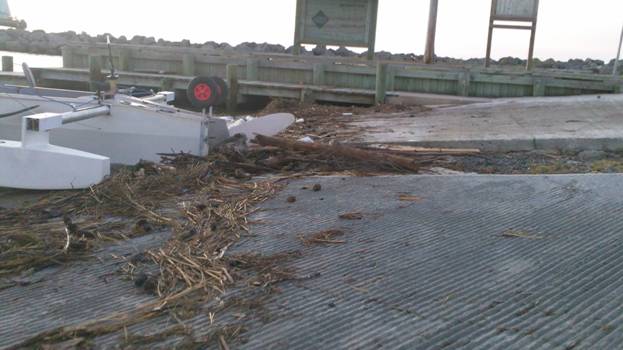 This time around the trip started with an 8 hour drive and the usually lack of sleep before launching. About 4 hours. I was up at 4:30 to start putting the boat together which takes an hour; it took longer in the dark. The camp grounds and boat ramp at the Driftwood motel looks as if it should since a Hurricane went through just a week earlier and basically took a direct hit. There was much debris on the launch beach and on the ramp. I was expecting to see low tide at launch time but it stayed up at the high water mark. I ended up launching after 6:30 into a headwind of 6-8 and right away had to start sailing in the wrong direction but after one tack I was heading in the correct direction just in time to miss the ferry which was leaving on time at 7am and gave me a big blast of the horn just to let me know she was underway. I was the only person at the ramp.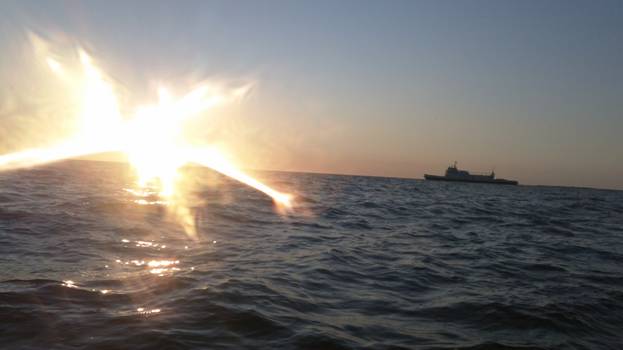 The first part of the day was a great sail. I stayed on a beam reach flying the main, jib and screecher until after I passed Raccoon Island then turned downwind running up the river where I started flying a spinnaker in light winds of 6-8 mph. My speed stayed in the 4's and 5's with a top of 6.9 kts. Here I ran for hours. It was a great sail. I was able to tinker and tune and learn the boat since this was its second sail. (No I'm not crazy, weather forecast for calm conditions of 3mph with gusts up to 10 for next two days) The only issue here was to keep an open eye out for debris floating in the water and there was a great deal of it with the most dangerous that I saw being large timbers and logs most of which were water soaked and below water level with just a bit bobbing above the water. Also the wind was changing direction so I had to pay attention. I am embarrassed to say that this is the first time that I have been wacked in the head by a swinging boom and it was nearly a knockout punch and I saw stars. As I am writing this it is 4 days later and my head still hurts. Continuing, as I started up clubfoot creek I was able to beam reach again and had not had to start paddling yet. I lowered my mast just before the sharp right hand turn into the Harlow canal. I noticed that I was being pushed backwards slightly so the water has just started out.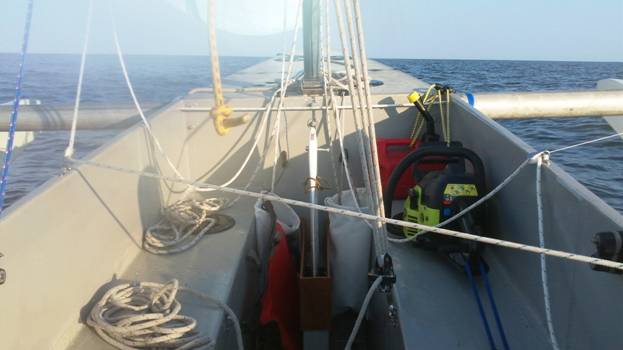 This meant that I would be fighting the flow so I really needed to have a good run in order to get out the other side before the flow started to come back in. That would mean fighting the tide in and trying to get out so I was hoping for a clear run and a good paddle. There was a blockage just before the canal which was easy to get around, no problem there. There seemed not to be as much clearance under the first bridge. I measured it with my paddle and then measured it once I got home. It was 58 inches. Of course it was getting lower as the water started out. Just after passing the first bridge I could see the whole canal blocked about 100 yards ahead. Oh, no. Is this how it is going to be? As I approached it I knew that I was going to have to clear some and it looked clear past the blockage. I have come this far so I might as well get at it. After all I do not want to spend the night here, but I did bring my extra large bug net that I can sleep in. (Thanks to whomever it was that recommended that on the discussion page).
The jam covered most of the canal. It is a large oak tree and the tops were to the right and a small opening that a kayak could make it through I believe. (If it were a race today the sailboats would be getting passed here by the fast paddlers.) I was going against the flow so I pulled up to it, tied off and cut limbs down a foot or so below water level while sitting on the floats and kept doing this inching my way forward. Where I could I used the chain saw above the water and at the bank. I finally had to get out and do some cutting that I could not reach. I felt with the paddle and it was much deeper than I thought, about waist deep so I slid in and went up to my chest but I used the underwater limbs to stand on and pulled the boat forward against the flow. It did not take long to get enough cleared to get over because I have came ready. With my small folding hand saw that I normally sail with it would have taken a while. I had pulled the boat over the limbs and clear to go in around 30-45 minutes. I do not recommend getting out of the boat and into the Harlow Canal water. It is not that it is nasty but it is mucky and dark. Whenever I now get a really bad cup of coffee it will be forever know as tasting like Harlow canal water! I was hoping that this was not the start to a very long canal run. After all I am only 100 yards past the first bridge with several miles to go to reach the 3rd bridge.
The second choke point was around ½ to 1 mile past the first and it was 2 for 1 but I was able to run over the first (see video) due to the shallow paddle pedal system in this boat. My paddles only go down to the bottom of the boat which has a 10 inch draft so if there is 10 inches of water I can paddle. I had bought a Hobie Drive to go into it but it extends around 14 inches below the bottom of the boat and then I would have to have 2 feet of water in order to clear it. So knowing this I just plowed right over the submerged limbs that were just under the water but my boat pushed them down and I kept right on going. Just ahead was the second for this area and I was able to go around it on the right hand side after cutting only one tree trunk.
There continued to be trees down up to the second bridge but none were blocking the canal completely until after passing the second bridge. This time the canal was blocked by a half fallen tree so the 2 big limbs were above the water and easier to cut. I tied off to the tree on the right and tested the water. It is only a couple of feet deep here with a soft bottom. I tied a rope to the limbs and cut them loose and used the rope tied to them to drag them to the side of the canal. This was an easy clearing and only took about 10 minutes.
From then on it was smooth sailing…. I mean pedal paddling and I reached the third bridge and I noticed that the water has now started flowing out. This meant that I really needed to get going in order to catch the current out and not get to the end of the canal and have the tide start pushing me in like last time I was here. I raised the mast so I could paddle better without it in the way and knew that from last time here that right around the turn there should be a shrimp boat or two. This time there were the same two and a third just happened to be right in the middle of the canal. No problem I thought until I got closer to it.
It was tied up in order to stay in the center of the canal. It had very large ropes tied to each corner so there were 4 ropes holding it in the middle. I managed to just get over the first on the left side and had to pull over the next one with the weight out of the boat. If it had been any later with the tide going out I would have not been able to pull over and would have had to wait for the tide to hit low and hopefully go under or the next high and go over. Kayaks would not be a problem but for 400 lbs boats it could be an issue and a wait. That is if the boat it is in the middle again, hopefully it will not be and will be out making money instead. Also approaching the boats there was some gun shooting on the right. I figured it was target practice. After I cleared the boat and got closer to the shooting I started blowing my whistle on my PFD and they stopped. I could not tell in which direction they were shooting but they stopped and I went on by. They continued about 5 minutes later. The area of the shooting was just past the last shrimp boat before rounding a corner to the right.
There was now a few more miles to get out of the creek and into the Newport River and on to Beaufort. The water was helping me at a good pace and I took it easy and grabbed a meal. Nearing the end of the canal there is a dock on the right and 3 guys there that commented on the paddle drive and said that I better paddle faster if I wanted to make it out the end of the creek. I agreed and said thanks. After a few minutes I could see the exit but noticed that I could once again see the top half's of crab traps and knew that it was near low tide but still going out where as last time here it was running in hard. Just as I thought I had it made I ran right up on the oyster beds again. I jumped out and pulled the boat to the side of deeper water and was able to get back in and get out of the creek after a short pull.
The wind was now on my nose and had not turned south as they said it was going to. Oh, well, maybe later. I got the sails up and started across the bay and noticed that the wind was only around 5 mph but I was making around 2.5 without paddling which I was very happy about. I was now getting very tired and it was around 7 pm or so. I called Chief and notified him that the canal was passable. We had a good talk and he was working on the tracker for the race and using my SPOT and me as his Ginny pig. Some sort of mapping code thing that sounded really techno. I did not know if anyone was following me or not so it was pleasant to know that, especially since I have not talked to anyone but myself and my boat all day long.
At this point my plans were to get to CP1, talk to the wife a bit, clean up the boat, Break out the "Anti Monkey Butt" (good stuff for chaffing…..seriously no joke that is what it is called), a quick nap in the boat and then shove off around midnight for the final push out Taylors creek, past Harkers Island and up the core sound and back to the launch beach. It did not quite pan out that way.
I will finish up the story now since that was pretty much it. I had a head wind to the Bridge at Beaufort. I ran aground once in the shallows. I stopped at the beach to the left of the Bridge and lowered the mast. Last time I was here there was a very strong current to paddle against to get under it. This time it was not as bad, about ½ as much. I turned left down Taylor's creek and planned to leave the mast down and just paddle to CP1. It was now dark and CP1 was a little harder to spot. The Gazebo is not lighted. There is a BB&T bank directly behind the small beach for reference and you should see small boats above the beach near the walkway which are upside down and stay there. The photo that I took here was too dark. The beach area is very small. The opening for it between the grasses is approximately 20 feet or so. My boat took up most of it and I was even asked later how long I was going to be there because a guy that needed to land his Zodiac from his sailboat. I just moved over into the grass and his wife brought the boat in. They were locals and very nice. Asked about my boat and I told them about the WaterTribe. They will be in a 30 foot O'Day moored just across Taylors creek and will be watching for all of us come Sept. 30th.
The wind had now died down and was calm and the flag hardly moved at all. The forecast said calm winds until morning and then 5 mph out of the east then becoming 10-15 Sunday night out of the south. If I were in the real race in this boat I would have just waited for the wind because it is much too hard to paddle for hours. If I were in the Hobie TI like I was the first practice of the NCC course then I would have launched and kept right on going since it is really easy to pedal. I needed to be back Monday. It was quite loud and quite a lot of people traffic so I was not going to be able to sleep here. I estimated that if I motor sailed I might be able to make it back by Sunday afternoon if I left now. So after thinking it over I decided to see if I could get a cab to the ferry ramp. FYI it is $2 per mile and cost $76.
I got back to Beaufort and parked at the Public Boat ramp near the end of Taylors creek and then jogged back to CP1 where I paddled back. The tide was now running out and helping me along at a good pace. I hardly had to paddle at all the mile or so to the ramp but when I was paddling I knew I had made the right decision because I was beat and would not have made it back by Monday unless the winds were to have picked up sooner. I was loaded and on my way home at 3:30 am Sunday morning not having finished what I had planned but finding out what we needed to know.
The Canal is OK for now. Let's hope that more hurricanes don't hit this area anytime soon. I hope that the videos give some idea about the conditions you will be seeing in the canal. Remember that water level will play a big part with the underwater limbs and if you will be able to see them or not and have to deal with them or not. I am not sure how low the water level goes. For the most part all the trees fell from the left side and you will be able to see where the top branches were cleared in order to get by.
Copyright ©2011 Roger Mann (aka JollyRoger)